By Tim Huffman
There is no one, perfect bait or bait rig. That's good because it would be predictable and boring. Three experts describe their bait picks for deep, winter fishing.
Capps & Coleman Double-Minnow Rig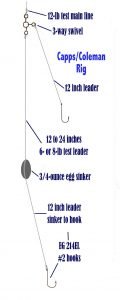 The most popular double-hook rig was designed by Ronnie Capps and Steve Coleman, the Tennessee duo who have more National Championships than any other team.
"We've revised the rig over the years," says Capps, "but the concept is the same. It's light-weight to give minnows more action. Our leaders are six- or eight-pound test and our main line 12-pound. Hooks are Eagle Claw 214EL #2, an extra-light wire hook that won't damage the minnow as much and is easy to bend free when snagged. Our sinker, usually ¼- to ¾-ounce, is as light as possible for the depth, current and boat speed."
Tying the basic rig: Use a three-foot leader and tie a hook on one end. Place an egg sinker 12 inches above the hook, wrapping the line four times through sinker to keep it in place. Tie a 3-way swivel to the opposite end of the leader. Tie a 12-inch leader and hook to a leg of the swivel. The main line goes to the last leg of the swivel. Pre-tied rigs are available at Grizzly Jig Company for those who don't want to tie their own.
Poles are important, too, says Capps, who slow trolls with B'n'M 16-foot poles. However, he says beginners should stick with 12-footers because they are much easier to use than longer poles.
Capps' big tip: "The key to catching crappie in cold water is to move as slowly as possible. A snail's pace. It's the difference between catching and not catching fish."
Single-Hook Vertical Jigging
Crappie become less aggressive as water cools. Hand-holding a jigging pole, or holding one in each hand, is a great way to both probe in cover and feel the light bites.
There are two theories for equipping, with one being an 11-foot pole (10- to 12 feet) that is medium action with a very limber tip. The limber tip helps see more delicate strikes. It's usually matched with six- or eight-pound-test monofilament high-vis line. Lighter 1/16-ounce jigs are often used. Line moving or a tic of the pole tip means a bite.
The second theory is to use a stiff 10- or 11-foot pole matched with 15-pound-text braided line. Braid is thin diameter but much stronger. It doesn't stretch so it's much better at telegraphing bites. The stiff rod and no-stretch line is set up to feel bites instead of seeing them.
Fishing guide and a Crappie Master's Angler of the Year, Mississippi State Champ and Missouri State Champ, Barry Morrow, says, "Holding a pole instead of having them in pole holders gives you more information about what is going on with your bait. I believe in a stiff Todd Huckabee rod and with braided line and a heavy 1/8- or 1/4-ounce jig. The combination of stiff pole, no-stretch line and a heavy bait provides the best sensitivity to feel bites."
Morrow has two biggest tips: "First, crappie are transitioning from jigs to minnows as the water gets cold. I prefer jigs, but a straight minnow can be awesome in colder water."
"Also, unless you're strong, use a 10-foot pole because it's easier on elbows and wrists. It just makes the day go better when you're arm and shoulder isn't worn out at the end of the trip."
Casting/Pitching/Dropping with LiveScope
The newest trend is using Garmin LiveScope to find a crappie, then cast, pitch or drop to the fish. Fishermen Kelley Graham and Dustin Harris finished second in the 2020 Crappie Masters Championship on the Ouachita River, Louisiana and are former Grenada Lake winners. They are converted LiveScopers.
"Livescope," says Graham, "is the best and worst thing to happen to fishing. It is great because we've learned a lot about fish reactions and we can target big fish. It's also the worse thing to happen because fishermen with decades of fishing knowledge have been taken out of the ballgame, at least for tournaments. For now, LiveScope is here to stay and is fantastic for locating and catching big crappie."
Some people are casting to fish at 30- to 50 feet. However, Graham prefers to pitch or drop using a Jenko X-13 (13-foot) jigging pole. Letting out line the length of the pole, he or his partner can start pitching to a fish when it's 22 feet from the boat. As the fish gets closer to the boat, the jig is pitched or dropped straight down and held on the fish.
"Fishing in cooler or cold water will only mean we are targeting deeper fish," says Graham. "For me, that means a 1/8-ounce jig with Jenko plastic. If the fish are deep, say 20 feet, I'll be dropping down on them and leaving the jig there until I get a reaction. That usually works, but if it doesn't, my second bait is a 1/8-ounce plain jighead with a minnow.
"For a true LiveScope fisherman, baits are very simple year-round."
Final Notes
What's your favorite rig, jigs, live bait and presentation for winter fishing? Keep using what works, but if things get tough, try the expert's ideas to entice more Mid-South crappie.