By Keith "Catfish" Sutton
We are into the middle of autumn now, so let me suggest that those of you who like catching catfish start thinking about a good place to go fishing. Lots of you still do most of your catfishing during spring and summer, but catfishing in autumn can produce some of the biggest fish and biggest catches of the year.
I especially like fishing for flatheads this season. These brown brawlers gorge on sunfish, carp, shad and other forage fish as the water temperature falls, a fact that increases chances for hooking up.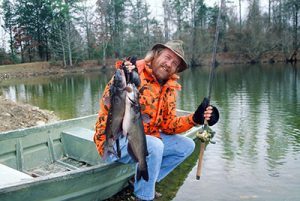 Channel cats and blue cats roam more and feed more in fall as well, with large schools often congregating in and around deep holes in Mid-South rivers and lakes. Find the right honeyhole and chances are good you can catch a half dozen or more with each set-up. Despite the coolness of the water, the fish will be gobbling up every bit of food they can find, including your bait.
So, if you're thinking about traveling to some of the blue-ribbon catfish waters in our region, now's the time to do it. And as you're making plans, you'll certainly want to consider the following list of top catfishing states. Some we included are tops for big fish—15-pound-plus channel cats, flatheads topping 50 and blues that may weigh 75 pounds or more. Others have reputations for fast action, with the likelihood that savvy anglers can hook and lands dozens of smaller but fun-to-catch pole benders in waters ranging from little ponds and city lakes to huge reservoirs and rivers. Most allow anglers to take their pick of either scenario: going geared up for monsters or choosing instead to target smaller, more plentiful cats destined for the fish fryer.
Alabama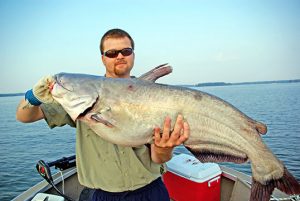 The Yellowhammer State tops the list of must-visit states for many fanatics who like targeting trophy-class cats. In recent years, Tennessee River impoundments like Wheeler, Wilson and Pickwick lakes have become well-known for producing huge blue cats, including several exceeding the century mark. Many waters are bristling with big flatheads and channel cats, too. Other hotspots include the Coosa and Tombigbee rivers, plus Eufaula, Guntersville, Mitchell and Neely Henry lakes.
When it's eaters you want, we suggest you head straight for one of the 23 state-owned public fishing lakes scattered around 20 counties. Ranging in size from 13 to 184 acres, each receives annual stockings of channel cats, making them ideal hotspots for filling a stringer with table fish.
Arkansas
Natural State waters are stocked with millions of catfish annually by Arkansas Game and Fish Commission (AGFC) personnel. Consequently, anglers fishing for dinner can drop a line in nine state park lakes, 18 Forest Service lakes, more than 40 AGFC lakes and 16 Corps of Engineers impoundments and expect to go home with a mess of eaters.
Trophy blues and flatheads are abundant, too, particularly in big rivers like the Mississippi where monsters exceeding 110 pounds have been reported in recent years. For trophy flatheads, Lake Conway in Faulkner County, brimming with 50- to 80-pounders, is hard to beat. Blues near or exceeding 100 pounds have been caught in Lake Ouachita, the White River and the Arkansas River. A 51-pound channel cat, one of the biggest ever recorded in any state, was caught on rod and reel in 300-acre Lake Wilhelmina in Polk County.
Mississippi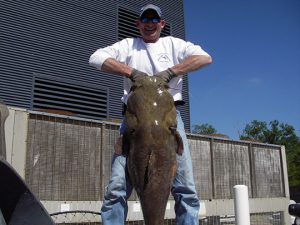 Many waters in the Magnolia State are well-known for producing enormous catfish. One of the best is the state's namesake river, a trophy-catfish factory running 410 miles along Mississippi's western border, which produced both the state-record blue (95 pounds) and flathead (77.7 pounds). Also excellent is 182-acre Lake Tom Bailey Lake just east of Meridian, which gave up the record 51-pound, 12-ounce channel cat, a gigantic fish by all standards.
You can place your fingertip on nearly any blue spot on the map and pinpoint hotspots for fast-paced action. Top reservoirs include Ross Barnett, Pickwick, Grenada, Enid, Sardis and Arkabutla. Small lakes that stand out from the rest include Oktibbeha County, Washington, Percy Quin State Park, Roosevelt State Park, Okhissa and Eagle. Among many outstanding rivers are the Big Black, Homochitto, Pascagoula, Pearl, Tenn-Tom and Yazoo.
Tennessee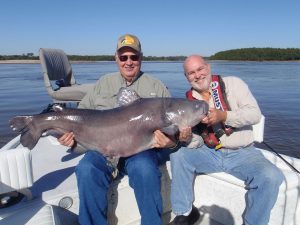 Last but not least on our list of best Mid-South catfishing states is Tennessee, a hotspot for big catfish and small, with prime waters spread out across more than 400 miles from Memphis to Chattanooga. Included are some of the country's top blue catfish honeyholes like the Cumberland, Tennessee and Mississippi rivers, where triple-digit fish always are possible. Flatheads inhabit the big rivers, too, with topnotch fishing in dam tailwaters on the Cumberland and Tennessee, and in other first-rate spots like the Hiwassee, Obion, Hatchie, Buffalo, Duck and Harpeth rivers.
Waters well known for their abundant channel cats include Reelfoot, Old Hickory, J. Percy Priest, Woods and Douglas lakes, plus the 18 small lakes in the Tennessee Wildlife Resource Agency's Family Fishing Lakes program.
Note: Autographed copies of Keith "Catfish" Sutton's latest book, Hardcore Catfishing, are available by sending a check or money order for $20 (shipping included) to C&C Outdoor Productions, 15601 Mountain Dr., Alexander, AR 72002.