Passing along Highway 70 near Arlington, Tenn. I noticed the restaurant Slingshot Charlie's. (It's a great place to eat, by the way.) The name of the establishment always reminds me of another Charlie who was a Mid-South outdoor original—Slingshot Charlie Taylor from the famed Reelfoot Lake region.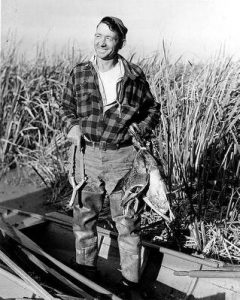 Taylor was a outdoorsmen and guide at Reelfoot in the early to mid- 1900s. He was so skilled with a sling that he carried it with him to dispatch snakes and wounded ducks. Somewhere along the line the opportunity to become a showman shooter presented itself and Taylor took his skills on the road Annie Oakley style.
According to Russell H. Caldwell's book, Reelfoot Lake: History-Duck Call Makers-Hunting Tales (Caldwell Office Outfitters, 1988), "His amazing gift led him to road shows and the stage in 1938, when he left Reelfoot for a 10-year period. He appeared at the Chicago World's Fair and Madison Square Garden in New York, and his fame grew as did his longing to return to the lake. After a long road trip, he quit his job on the road to return to his first love: living on the lake."
I have discussed Taylor with several sources over the years and many have verified he was also had a small part in a movie. Radio also played a role in his growing fame according to Thumb's Ruby who wrote the following about Taylor in The Courier-Journal (Louisville, Ky.) newspaper in December of 1945: "… 'Slingshot Charlie' Taylor was discovered by Jack Lamb, the world famous, fisherman, hunter and movie maker."
Ruby's article went on to quote a source that there were others on the lake that likewise shared the talent of unleashing projectiles with a forked limb and rubber bands. The article detailed a local kid asking some paying customers to toss coins in the air while he shot the coins with his slingshot and sent them flying into the lake. The punchline from the coin-tosser was: "Hell, I ain't going to throw more than a penny if you are going to keep doing them that way!"
The article also confirmed the weather-beaten, silk-shirt wearing Taylor was still alive at the time and still paddling about the lake to his old haunts. (Caldwell's book noted Taylor was born in 1888.)
The Courier-Journal story also said, Taylor could still go squirrel hunting with nothing but a slingshot and return with a limit of squirrels with their heads, "durn near knocked clean off!"
Editor's note: I have no idea if there is any connection between Slingshot Charlie Taylor and the restaurant of the same name; it's doubtful. However, continuing east on Hwy. 70, one arrives at the community of Keeling, Tenn. where there lived another slingshot legend, Bill Sartain. I wrote of Sartain many times, once for ESPN Outdoors. The Tonight Show once contacted me to try and reach him for an appearance. Sartain, like Taylor was also an outdoor original.