by Keith "Catfish" Sutton
Looking for some great bassing action before your favorite fish start spawning and crowds of people are on the water? Look no further than these three hotspots scattered across the Mid-South. The biggest covers only a few hundred acres, but first-rate action for big bass awaits visiting anglers at each of these small fishing havens.
Lee Creek Reservoir, Arkansas
I recently fished for largemouths in 634-acre Lee Creek Reservoir in Crawford County, Arkansas with Brad Wiegmann of Springdale and Lawrence Taylor of Van Buren. Despite rain showers, the action started quickly. Wiegmann landed a 6-pound-plus bucketmouth right off the bat, and during the four hours we fished, we all followed up with numerous largemouths in the 1- to 4-pound range.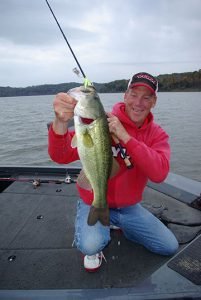 "I come here often to fish," Taylor said, "and while the bass action is superb, I often have the whole lake to myself. It's a great place to fish near one of Arkansas' major metropolitan areas, yet Lee Creek Reservoir remains relatively unknown outside a group of local anglers."
Spinnerbaits and buzzbaits are hard to beat when fishing for prespawn bass that are making occasional forays into the shallows this time of year. Working lakeside bluffs with deep-diving crankbaits and jigs nails lots of hawgs, too.
The lake provides water to the city of Fort Smith and to communities and rural water districts in Sequoyah and Le Flore counties in eastern Oklahoma and three western Arkansas counties. It lies just upstream from Lee Creek's confluence with the Arkansas River. Access is off Old Uniontown Road just north of Van Buren. Entering 3808 Gelly Drive, Van Buren, into your GPS should take you to the lakeside recreation area and boat launch.
For more information, contact the Fort Smith office of the Arkansas Game and Fish Commission at 877-478-1043.
Davis Lake, Mississippi
Another prespawn bass-fishing hotspots is 200-acre Davis Lake. Situated in the Tombigbee National Forest (NF) lake off the Natchez Trace 25 miles south of Tupelo, this little wonder has built a reputation as one of Mississippi's best big-bass destinations, thanks to a couple of renovation and restocking efforts over the past 20 years. The work included digging trenches and channels throughout the lake that created excellent holding habitat for bass. High numbers of stunted crappie provide plentiful forage for largemouths, and while lunkers aren't abundant, savvy anglers sometimes catch wall-hangers exceeding 10 pounds.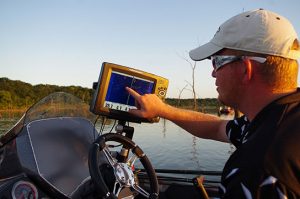 Some of the best prespawn fishing is off the lake's bluffs on the south shore. Later, the bass will move into shoreline shallows, and because the water is clear, you can see them on their beds and have a great chance to catch a big female by sight casting. Before the spawn, however, you'll have to use a fish-finder to pinpoint deeper cover and structure and work that with lures such as deep-diving crankbaits, Carolina-rigged worms or rattlebaits such as the Rat-L-Trap and Cordell Spot.
Fortunately, because the lake is only 200 acres, it doesn't take a savvy angler long to find the best spots. With electronics you can quickly zero in on the channels, drops and deep brush bass relate to.
Be aware that Davis Lake is a fee area. The fee station, where you'll usually find a camp host on duty, is just beyond the entrance gate. Nonetheless, visitors should make sure that they have correct currency before arriving at the recreation area.
For more info, call the Tombigbee NF office at 662-285-3264.
Glenn Springs Lake, Tennessee
Most of us wouldn't consider a 310-acre lake to be big, but that's the size of Glenn Springs Lake owned by the Tennessee Wildlife Resources Agency, and Glenn Springs is one of the three largest lakes owned by the state agency. Prespawn bassing is excellent here, with the chance to land some really nice trophy-class largemouths. Make a cast to the right spot and it's possible you could land a bucketmouth exceeding 6 or 7 pounds.
All the shoreline water around Glenn Springs is relatively deep except around the shallow upper end. Look for largemouths around aquatic vegetation, standing timber and fish attractors in these deeper waters, with some as deep as 20 to 30 feet this season. Fishing near the dam also can be good, and around a little island in the arm of the lake across from the fishing pier. Good lures to try before the bass start spawning include deep cranks, jigging spoons, big soft craws and Carolina-rigged creature baits.
Glenn Springs Lake is 12 miles northeast of Millington off U.S. Highway 51. For additional information, call the Glenn Springs Lake Store at 901-835-5253.