By Joe Sills
Each year about this time, I get really "stupid" for striped bass fishing. I don't mean those little two-pound feisty fighters that school up by the scores in the middle of the lake. I mean those muscular giants in the twenty to thirty-pound range that roam the tail waters of Pickwick Dam! Over twenty years ago I got hooked on this event that annually occurs about this time of hot summer. My friend, Claggett Talley was an active guide and contributor to MSHFN at the time. He introduced me, and my guests, to some of the most exciting fishing I have ever experienced.
My first trip was solo but it opened my eyes to fishing thrills I had only heard about. It was early August and bait fishing was to be the method we were to use. We rumbled his 20 foot Bumble Bee up to the slack water at the south end of the turbines and, using a cast net, gathered a dozen or so large shad. We hooked them through the lips and lowered our two-ounce weights into the boils. Wasn't long until my rod was almost jerked out of my hands. What a fight! The ferocious fish zigged and zagged, went deep and finally wore down. As I pumped it up, it began to twirl around and around. This familiar action made my heart sink, yep, a catfish. Good fight, but not what we were after. We then tried a couple of Sabicki rigged spinning outfits to catch shad. This was good fun but only a prelude to what was coming.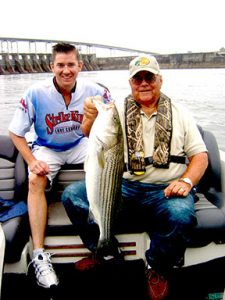 Seems the deep stripers we rood at stealing these lip-hooked shad, but the cats loved them and hung on. In order to avoid a catfish harvest, we changed to deep diving crankbaits. Thus is when the real fun began. My guide would ride his boat up and over the boils to get behind them and the wall of the dam. We would cast into the boils and crank slowly. The churning current would make the lures twist and turn. Surely this would be the ticket to catch them. No luck. "Clag" then decided to troll those divers down stream toward the ramp. Can you believe catfish loved them, too? Between catfish and rock hanging, it wasn't looking very promising.
As the shadows began to lengthen, "Clag" wanted to try one more technique up near the dam, top waters. Now this was more like it. As we approached the boils, we could see stripers busting shad. Casting large Zara Spooks was incredibly exciting. A fish would blow shad up, we would cast right at he spot and Wham! If you have ever roped a runaway calf, you can imagine the shock to your rod and reel. These things are so incredibly strong. They may take of, stripping drag, to one side or another, but most likely, will go deep into the powerful current. All you can do is hang on until they tire. Then, its just pump and wind, pump and wind until brought to the net. There is usually a final surge once they spot the net.
Since that initial trip, we have used spinner baits, prop baits, floating minnow lures, Sassy Shads, and live bream to entice strikes. I have even fished from the rocky banks with Spooks for moderate success. This is as much fun as boat fishing as it is truly hand to hand combat with no side giving ground. Your bass fishing gear is adequate. Use long rods with strong butt sections, reels with good drags, and at least seventeen-pound line. For some unforgettable thrills, give striper fishing a try. MSHFN.