By Mark Beason
In 1976 a gallon of gas cost 59 cents, the United States was celebrating its 200th birthday, and Roger Stegall started fishing at Pickwick Lake. For more than 40 years the Iuka, Mississippi resident has been catching fish at Pickwick and he's been a full time guide since 1987.
There truly has been a lot of water under the bridge. Stegall has had success as a tournament angler and is a popular guide at Pickwick. If it has gills and swims in Pickwick Lake, it's a safe that he's going to try and catch it.
With that in mind, we thought it would be interesting to field a Q&A session with the veteran angler and guide.
Q: What are the biggest changes you've seen to Pickwick during your career? People and pressure.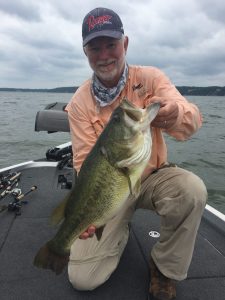 Stegall: I remember when I'd go out fish all week and see four or five boats. Last week I counted 35 boat trailers in the parking lot at 6 a.m. There are a lot of people fishing and a lot more recreational boaters on the lake now. Pickwick got to be a popular place for serious fishermen and people from all over come to fish there. As it got more publicity for being a good lake and because of the smallmouths, it made it more of a destination place for people. And since the pandemic, fishing here has likewise increased. Because of the pandemic, people have had more time to fish.
Q: What's the strangest thing you've ever caught or pulled up?
A: It was actually a client, but this past spring a client caught a Timex watch on a jig. It wasn't working so I guess this one didn't keep on ticking. But I've pulled up everything from rods to dip nets and all kinds of things. Not too long ago I pulled up a high top tennis shoe.
Q: With summer winding down we are heading into a popular time to fish at Pickwick. Why is Pickwick so desirable to fish in the fall? The minnows and shad are up in the creeks and around the grass. They don't get in the creeks like they once did but they're still in there. This makes it a lot easier to predict where you're going to catch fish so there's less guess work. For people that aren't really experienced they can find these places and catch fish. Plus, you don't know what you are going to catch there. In the grass, you might catch small mouth, largemouth, catfish, drum or white bass. Just about every species in the lake will be around there.
Q: If you could only tie one bait and had to fish with it all year what would it be?
A: Clients ask me that one a lot, and I tell them all the same thing—a 4-inch, green pumpkin Berkley Power Hawg, Texas-rigged. It looks almost exactly like a crawfish when you bump it, and when they won't bite much else they'll bite it.
Q: What's the strangest request you've had a client ask?
A: I had one guy want to catch a six-pound smallmouth, and that's all he wanted. He didn't care if we caught a bunch of fish or not he just wanted that six-pounder. He fished with me for seven days straight and we fished hard. Some five-pounders were caught, but none that hit six. I had two doctors that wanted to set some type of class/line record for sauger on a fly rod once. It's hard enough catching one with normal tackle much less getting a fly 25- or 30 feet deep. We actually caught a few like that but no keepers, and to set the record it had to qualify as a keeper fish.