By Tim Huffman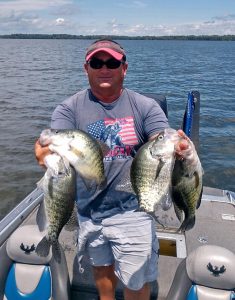 Crappie fishing has changed dramatically in two years. Garmin's LiveScope is a great tool for catching fish and learning. Two pros explain some facts revealed by LiveScope.
Jeff Riddle is a guide out of Blue Bank Resort on Reelfoot Lake. He and his partner won the American Crappie Trail 2018 National Championship. Terry Stewart is a guide on Mississippi lakes. He and his daughter, Terra, hold the one-day tournament record with seven fish weighing 21.17 pounds, including two 3.83-pound giants. He has won Crappie Masters, ACT and Magnolia Crappie Club tournaments.
The Way It Was
Riddle and Stewart were spider rigging three years ago. Stewart says, "Most of my fishing has been spider rigging. I had great success pushing minnows and it caught bigger fish than the other techniques. A lot of area can be covered with baits at different depths and allows different speeds to be used."
Today's Trend & New Facts
"Today my fishing is nothing but LiveScope," says Riddle. "It takes the guesswork out of fishing because you can know the fish are there and can see them react.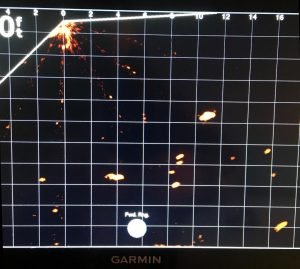 "It's a great tool for learning, too. Some things we thought we knew but can now confirm. Other things we thought were true were actually myths.
Fact 1: Riddle says, "Crappie are more spooky than we thought. We can't be quiet enough in the boat. Today in a tournament, when we see two big fish on a stump and catch one, we hold it in our hand or ease it into the minnow cooler because if we walk to the back of the boat we will spook the other fish. I did it for years not knowing I was spooking fish. We've watch fish 15 feet away on a stump take off when the trolling motor, on low power, is just bumped a little to move the boat. We knew fish were spooky but not how much."
Fact 2: Keeping baits as far from the boat as possible is very important. Stewart says, "We started out dropping down to the fish with a jigging pole but now more fishermen are casting. I'm casting as far out as 70- and 80 feet but some other fishermen are casting 100 feet and more just to get a jig to a fish before it spooks."
Fact 3: Stewart says, "Baits make a much bigger difference than we once believed. I use to never fish with hair jigs, but the two 3.83-pounders were caught on hair. A lot of time when other baits spook fish, a small hair jig will work. I've also had good luck with a small minnow when dropping straight down, but I've watched fish run from a minnow, too, and not sure why."
Fact 4: Crappie will come get a bait. Riddle says, "A crappie will come up from 25 feet of water to hit a jig at eight feet if the water is clear enough for him to see the it. I would have never believed it but we've watched them do it on two different lakes."
Fact 5: Riddle says, "The closer the fish to the cover the more likely it is to bite. The crappie in the open swimming around is harder to catch but can sometimes be caught."
Fact 6: Give the fish time to hit. "Fish act differently to a bait depending upon season and situations," says Riddle. "In August here at Reelfoot, I caught two crappie pushing two pounds. It took seven or eight minutes of keeping the bait on the fish to get them to bite. Use to we would have never done that. Aggravate a fish enough with a bait and it will bite or run off.
"I learned when a fish is active, before the bait gets there, it will turn toward the bait and wait on it. That fish is going to bite."
Final Comments
Stewart says, "The LiveScope fishermen are dominating the tournaments. It's the real deal. I highly recommend it for any serious weekend fisherman because it will lead to more and bigger fish. There is a big initial cost and there is a learning curve. Also, a fisherman must be physically able to run a trolling motor all day long. It's hard work. The best recommendation I have for a new LiveScope owner is to go out with a guide or good friend to learn the basics and reduce the learning curve."
No LiveScope? Stewart says, "Make no mistake that fishermen who don't have the new electronics can still catch fish. Spider rigging is still a great technique in our region and will continue to be a productive method for putting fish in the livewell."