By Joe Sills
Last December 5, 2020, Mid-America lost a Legend, Billy Lindsey. I first met Billy at the Mid South Boating and Fishing Show in 1977. Even then, his gentle voice, and sincere manner were convincing attributes to his kind, Christian soul. To look into his eyes as he spoke, you knew he meant what he was expressing to be absolutely true. At a time when charlatanism was common, Billy's honesty was like a bright glow of human sunshine.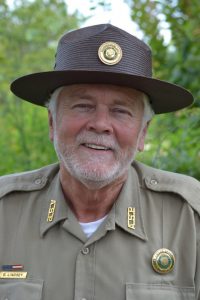 Billy was born on July 17, 1955 in Midland, Texas to Bill and Mavis Lindsey. At age 10, the family moved to Heber Springs, Arkansas where they began to build what is now the flagship trout resort on the Little Red River, Lindsey's Resort. My first trip to Lindsey's was back in the late1990s when their annual Media Conference was being held, in January. January? Yes, that was before winter fishing became so popular. Media folks from as far away as Chicago and Texas and all points in between would gather for a few days of trout fishing and promotion of this Arkansas jewel. Some January days were in the 60s and some as low as 14 degrees but, in the gently flowing, crystal clear waters, we caught fish!
Billy's life was a parallel of the river itself, generally, a tranquil, easy-going stream of indescribable beauty, punctuated by rare, natural disasters. Not long after Billy's dad relinquished ownership to him, one of the most devastating floods to ever occur in that area almost wiped out the dock and the entire operation. With the determination of his pioneering ancestors, Billy and his family began rebuilding. In spite of reoccurring health problems, Billy soldiered on.
His health, it was discovered, was caused by the use of surplus Vietnam War, "Agent Orange" that had been used as a grass killer on his high school football practice field. This affected him the rest of his life. Nevertheless, Billy and his family persevered by growing the facility with a conference hall, new cabins, and a rebuilt "Pot O Gold "restaurant.
Not long after, a record snowstorm collapsed the covered dock and had to be replaced along with its entire fleet of boats and motors. This event proved to be almost the end of the resort and it was forced to shut down for a few months. Fortunately, investors rose to the rescue and even selected Billy's nephew Lindsey White, a long time employee, as the manager.
​Meanwhile, Billy's faith carried him on to even greater heights as Superintendent of the "Bull Shoals, White River State Park". Billy was recognized and earned every award the Arkansas Hospitality Industry had to offer. He worked closely with the Arkansas Hospitality Association and served as an Arkansas Parks and Tourism Commissioner for 28 years.  Billy was also a 32nd Degree Freemason. He leaves his wife Robin, five children, four grandchildren and another one pending. We salute, posthumously, Billy Clyde Lindsey, our 2021 Mid South Legend. MSHFN.