By Tim Huffman
Mississippi is blessed with good crappie fishing in all parts of the state. Three lakes are mentioned here, but many other waters are hot February and March picks, too.
Ross Barnett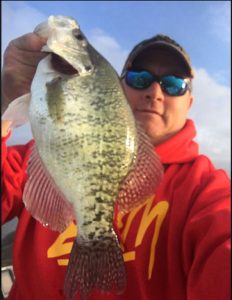 The Jackson area is host to a 33,000-acre reservoir with a combination of great numbers of fish and good quality. Hugh Krutz, avid angler and tournament fisherman, says, "I think it's the best lake in the state because it has so many fish, even if it doesn't produce the three pounders that Grenada does. It gets fishing pressure, but not the out-of-town crowds because it gets less publicity than Grenada. What really saves us is the wind because the lake is not friendly when the wind gets up, so it keeps fishermen off a lot."
Krutz says the outlook for 2021 is very good with the black crappie population exploding. For newcomers to the lake, ramps should be accessible and navigation isn't bad providing you stay within the marked channels.
"I do have LiveScope but still prefer the old-fashion spider rigging. I use B 'n' M BGJP 16-foot poles and Capps/Coleman double-minnow rigs. I like small minnows in cold water.
"Shad swim up the river and go to the backwaters where they spend the winter. Crappie follow them. The migration will stop when they hit the Hwy 43 bridge. The fish will winter not far from the bridge with their exact location determined by current. Little current means they'll be on the concrete bridge pilings, but current will drive them below the bridge to a big eddy. You can find it by looking for all the boats. Water will be 14 to 20 feet deep in the eddy pools."
Grenada Lake
Guide and tournament pro, Terry Stewart, says, "Grenada is a fantastic lake to catch a three-pound crappie. The lake has been on an upward trend due to high water the past few springs. High water spreads fish out and lets them get into places difficult for fishermen to fish. More of the fish survive so the outlook for 2021 is excellent."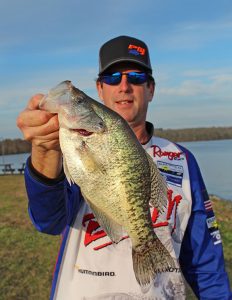 Winter low water makes access almost impossible, but Stewart says by February there is usually enough rain that most of the ramps will be open. Navigation can be tricky with wood just below the surface and there are shallow flats difficult to see.
"Look for crappie to be in the middle of each arm of the lake and then they'll move toward the upper ends as water warms. Fish will really be staggered at different depths between 10-25 feet so searching is required," says Stewart.
"I LiveScope, but spider rigging is still an excellent choice. Wind can be a problem on the lake making for dangerous situations, but there are often places to get out of the wind except on the worse days."
In summary, work the upper portions of the feeder arms, pay attention to the wind when choosing an area, navigate carefully and rig expecting to catch a monster crappie. This 'Bucket List" lake can produce your fish of a lifetime.
Enid Lake
When choosing a top lake for catching numbers of fish, Enid, and sister lake Sardis, are usually one and two. Enid is a 28,000-acre crappie factory. It won't have the huge fish of some other lakes, but with a 12-inch length limit, the fish in your livewell will be good ones including some 1.5's and a few 2-plus pounders. A few months ago in December, the lake was producing bigger-than-normal slabs.
B 'n' M pro staff member Les Smith, says, "Wind is a big deal here in Mississippi. If I had to pick a lake here in the state to fish in the wind it would be Enid. It's not as big and a fisherman can get off the main lake.
"Another advantage of being smaller is that it's easier to dissect for an out-of-town fisherman. Most fishermen can find some fish."
Expect great fishing here in 2021. Check lake level, open ramps and other key information online before heading to the lake.
Bonus Wildcard Picks
Kent Driscoll, a regular on Mississippi waters, says two lakes are wildcards and should not be overlooked. "Okatibee can be great fun for a weekend fisherman. The numbers are crazy there and it's known for having thousands of one-pound fish.
"Eagle is a great lake that is off the beaten path. It's an oxbow that's located inside the Mississippi River levy. It has good water with some shorelines lined with cypress trees and knees. The other side of the lake is deeper and lined with docks. The docks have a ton of cover under them. Black crappie are typically under the piers and white crappie are out in the middle, so several different techniques work at this lake. It's not uncommon to see two-and-a-half to three-pound crappie. Navigation is easy except for the obvious areas around the trees."
Mississippi has fantastic lakes from north to south and east to west. Oxbows, reservoirs, lakes and river systems create a variety of fishing options. The next few months are big-slab time in Mississippi, so get out and enjoy the fun.