By Joe Sills
This month we feature not only a Mid-South Legend but a national legend, Steve McCadams, originally of McKenzie, Tennessee.
Like so many of our veteran outdoorsmen, Steve was part of a rural family that hunted and fished together. In our interview with him, he mentioned that urbanization has drawn so many to the towns and cities away from the farms are one reason for the decline of numbers of youth participating in our activities. No longer can one just walk out the backdoor to go squirrel and rabbit hinting as we did in our youth. There are fewer and fewer public hunting areas as big commercial farms are now the rule instead of multiple small farmsteads surrounding us. State and federal agencies are doing a great job in providing public fishing places, however.
Steve's 43 years as a professional hunting and fishing guide has made him one of our nation's most recognizable outdoor celebrities. And how did this come about?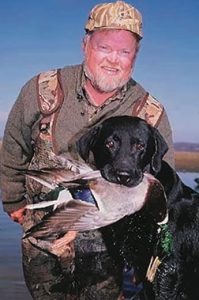 Having hunted and fished all his life, he wanted to pursue a profession in wildlife management and enforcement. A degree in biology from Bethel College in 1972 started him on his way. He credits former Northwest Tennessee Tourism Director Tommy Akin as the one who propelled him into the national Scene. Tommy introduced Steve to many of the sports celebrities who were actively involved in radio and television productions. The late Commercial Appeal Outdoors Editor Henry Reynolds was another mentor in this realm. This exposure brought with it the endorsements that prompted fishermen and hunters from all over the country to seek his guide services.
Guiding was always an activity that he enjoyed but he noticed that most professional guiding was seasonal in nature and there were tough times in between the spring and winter seasons. He set about the pursuit of extending the seasons and took up writing about the outdoors as a supplemental career. He is co-author of Crappie Wisdom, considered to be the ultimate crappie fishing manual. He has been published in In Fisherman, North American Fisherman, Outdoor Life, Field and Stream, Crappie World and the Saturday Evening Post. He also contributes a weekly article in the Paris Post Intelligencer.
Steve is a member of the Outdoor Writers of America, Southeastern Outdoor Writer's Association and Tennessee Outdoor Writer's Association.
He struggled with cancer several years back and now has sponsored and organized his Casting for a Cure youth fishing rodeo the last 19 years. The proceeds go to the American Cancer Society.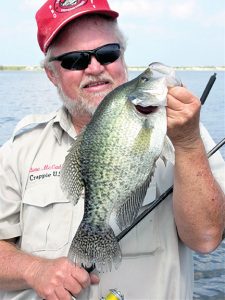 Steve and partner Jim Perry won the 1996 Crappiethon Championship on Chickamauga Lake. He is still in great demand as a clinician and ambassador for hunting and fishing. In 2007, he was selected to become a member of Garry Mason's Legends of the Outdoors, and in 2017 he was inducted in the Freshwater Fishing Hall of Fame in Hayward, Wisconsin.
Steve, 65, says he is beginning to slow down a bit, but still guides when the conditions are not too rugged. Rain, wind, cold and extreme heat are constant detriments as we age, but most of us still soldier on, but maybe on a limited basis.
Steve, wife Linda and their Labrador retriever, Avery, live in Paris, Tennessee, only a few miles from their beloved Kentucky Lake.
Salute Steve McCadams, our October Mid-South Legend.