By Joe Sills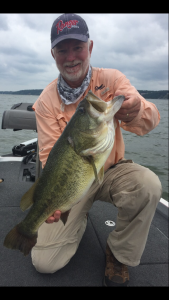 Our March Edition of MSHFN focuses on the Pickwick Region and what better way to enhance this section than by featuring one of its most noted bass fishing legends, our longtime friend, Roger Stegall. Roger happens to be one of the Mid South's best-known anglers on a National level. Roger has recently been recognized as one of the newest members of the Mississippi Heritage Museum and Hall of Fame
Roger began his fishing career at an early age when, at age six, he, his Dad, Granddad, and brother would all board an old aluminum boat to fish a 40-acre family lake back in the woods near Pontotoc. His Grandad had an old metal lure that actually had a rattle in it, maker unknown. Roger and his brother would take turns casting that noisy lure to catch bass after bass from that seclude, spring fed pond. He was hooked! While in school, he would dream about bassin' and would head to the lake as soon as his daily farm chores were finished. He also played baseball and softball but fishing was his ultimate goal.
After high school, he attended Itawamba Junior College where he joined the local bass club and finished second in his first tournament. In 1977, he began to fish other local charity and fruit jar events. In 1980 he was Angler of the Year in the Dixie Bass Association winning two bass boats in the following two years. He won the St. Jude Classic on Sardis in 1982. In 1983, Dennis Demo and Forrest Wood of Ranger Boats, began a 37 year relationship with him and, each year since, furnished him a new Ranger Bass Boat. His first lure sponsor was Hog Rustler lures from 1978-1984 when he became associated with Strike King Lure Company owned by Charles Spence and continued that relationship for 34 years until the most recent sale of the Company.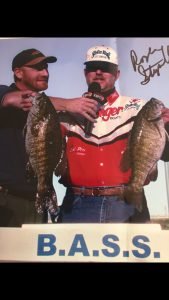 In 1987, he began his own guide service and continues today. His wife allowed that he should have one year to prove he could make a living at it. His guide service and fishing professional B.A.S.S. and FLW events made fishing for a living possible. His biggest bass, an 11–8 was caught in March of 2011. Another memorable accomplishment was when he boated a five fish limit of smallmouth weighing a record 27-06 in a Phoenix BFL Tournament. He is proud to be one of the few anglers to have caught between 40 and 50 smallmouth over 7 pounds on artificial lures on Pickwick.
Having endured recent years of crisis, kidney cancer in 2013, thyroid cancer in 2015, and a tragic shop fire that destroyed his collection of trophies, deer mounts, rods, reels, 26 firearms, and an almost fatal car accident, he is grateful for good doctors and his Lord to still go to "work" doing what he loves to do, fishing and guiding. We salute our March Mid- South Legend, Roger Stegall. MSHFN.