By Joe Sills
This spring, I had the pleasure of meeting Joella Bates at Garry Mason's Writer Conference held at Mike Hayes' beautiful Blue Bank Resort on the shore of historic Reelfoot Lake. Being primarily a fisherman, my initial focus was on catching bluegill with legendary guide, Billy Blakely. As we were being introduced, Joella was in the ranks of these well-known anglers. I had heard her name before, but never realized her huge celebrity status, especially in the archery world. Further investigation revealed one of the most outstanding women in the outdoor world.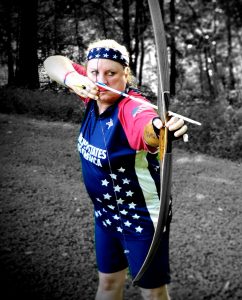 Joella's experience began early under her father's tutelage. At first she was a walk along while her Dad hunted rabbits and squirrels, later deer. She shot her first squirrel at age eight, her first gun deer at age 14, and has labeled herself as a huntress ever since. For seven straight years she harvested an eight-pointer.
In college, at UT-Martin, she was a member of the Varsity Rifle Team and the ROTC Rifle Team. In 1983, her home was burglarized and guns were stolen. Her dad bought her a used 31-inch compound bow that left her bruised and cut, but she soon mastered that. She honed her archery skills in many competitions including five National 3D Championships.
She was the first woman to score the Big 5 in African big game. While accomplishing this feat in 2009, Joella downed a charging lioness at six and a half feet with a 90-pound bow, and a charging elephant cow that landed two and a half feet from her. She has successfully targeted over 80 different species of animals. She has a grand slam on turkey to her credit, as well.
Along the way, Joella has been recognized for her outdoor prowess by being selected to the UTM Athletic Hall of Fame, Outdoor Channel Circle of Honor, and Garry Mason's Legends of the Outdoors National Hall of Fame. She is a member of TOWPA and SEOPA Writer's Associations. She has appeared in many archery clinics, outdoor shows, and conducts outdoor camps for youth and women across the nation. Joella has competed in archery competitions, not only in the U.S. but in Canada, France and South Africa.
Joella, now a grandmother, calls herself an extreme huntress, but has also lately challenged herself as a catfish- and snapping-turtle grabbler. She is also an assistant archery coach at Bethel University in McKenzie, Tenn.
Her motto has become "No excuses—No limits." Joella Bates Of Cumberland City, Tenn., our November Mid-South Legend for November.