Louisville, KY– Catfish anglers from eight states traveled to Huntsville, AL, and the Tennessee River for a King Kat Tournament Trail event presented by Bass Pro Shops Cabela's. The Huntsville/Madison County Convention & Visitors Bureau hosted 16 teams that gathered to test their catfishing skills against other anglers and Mother Nature.
Anglers fishing the April 17, 2021 event were vying for $ 3,225 in cash and prizes, an opportunity to qualify for regional competition, and the opportunity to qualify for this year's King Kat Classic Championship on the Red River at Natchitoches, LA, November 5-6, 2021. The Classic features a guaranteed payout of $125,000 in cash and prizes.
Competing anglers fished under partly sunny skies with light winds blowing. It was a near-perfect day with the air temperature reaching into the 70's. Anglers reported a mixed bite, but it took more than 150 pounds in five fish to win.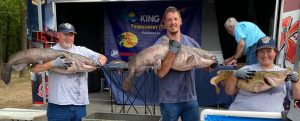 First Place
The top spot at Huntsville went to Doug and Tiffany McAnally from Birmingham, AL, and John R (JR) Hall from New Market, AL. The three anglers put together a plan that netted them 154.58 pounds to win first place and earn a check for $1,800.
"We had a really good day of fishing," reported Doug. "We caught a total of 14 fish on tournament day. It was a five-fish limit with two over 34 inches and 3 under 34 inches. Our biggest fish was 54.03 pounds and our second biggest was a 46-pound flathead."
The big flattie was Tiffany McAnally's personal best flathead. The team caught the trifecta, having a mixture of channel cat, blue cat, and flathead catfishing making up their total 5 fish weight. They caught their fish using the trolling motor and spot locking over treetops.
"We were using skipjack for bait," continued Doug. "We were fishing between Ditto Landing and the Guntersville dam in about 15 to 25 feet of water We've only been fishing competitively for catfish since January so this was a big win for us."
Tiffany has been fishing competitively with Doug since 2010 and has come to love it dearly. She has also become an ardent fan of CPR.
"I have to say, there's incredible joy and excitement that screams in my soul when I see a huge catfish breaking the surface of the water," offered Tiffany. "Not many people get to see these beauties because they're so far underwater, and I get to hold them, touch them, photo them, and send them back home to keep growing. CPR always – catch, photo, release!!!
"A special thanks goes to River Rats reel repair, Dale's Tackle and Backwoods Catfishing Guide Service for being there for us," concluded Doug.
Second Place and Big Fish
The runner-up spot went to Joe and Demetria Westbrook from Chandlerville, IL. They teamed up to bring 145.38 pounds to the scales to take second place and earn a check for $700. Their bag included the Big Kat of the tournament at 74.66 pounds and added $300 to the check.
Team Westbrook fished the lower end of Wheeler. They were drifting and pulling planer boards to catch 4 fish on the day. The team targeted 20-25 feet of water, using skipjack for bait.
Third Place
Third place at Huntsville wen to the Wayne and Travis Bodine from Bardstown, KY. They put 132.96 pounds of Tennessee River cats in the box to earn a check for $425.
Wayne and Travis fished the city limits of Decatur in earning their place. The team fished on the rope in 20-35 feet of water using fresh skipjack for bait. They anchored on brush piles, treetops, and ledges to catch 10 fish on the day.
Epilogue
"Cabela's King Kat Tournament Trail wishes to thank Mark McCarter and the Huntsville/Madison County CVB for their support," said Tournament Director Tim Fortner. "We also thank Brandi Quick and Ditto Landing Marina."
The 2021 Championship
This year's King Kat Classic Championship will be held on the Red River at Natchitoches, LA, November 5-6, 2021. The Classic features a guaranteed payout of $125,000 in cash and prizes. The points race is set to pay $30,000 to the top 20 places based on the competitor's top-five finishes.
National Sponsors
Bass Pro Shops/Cabela's King Kat Tournament Trail sponsors include Bass Pro Shops/Cabela's, Mercury Marine, Mustad Hooks, Gamma Line, Driftmaster Rod Holders, Ego Nets, EFX Graphics, Catfish Now, Fin n' Frames, Cat River Anchors, Smooth Move Boat Seats, and Lowe Boats.
For more information on the championship and other King Kat activities visit their website at www.kingkatusa.com. Anglers can also follow the trail on the King Kat Facebook Page.