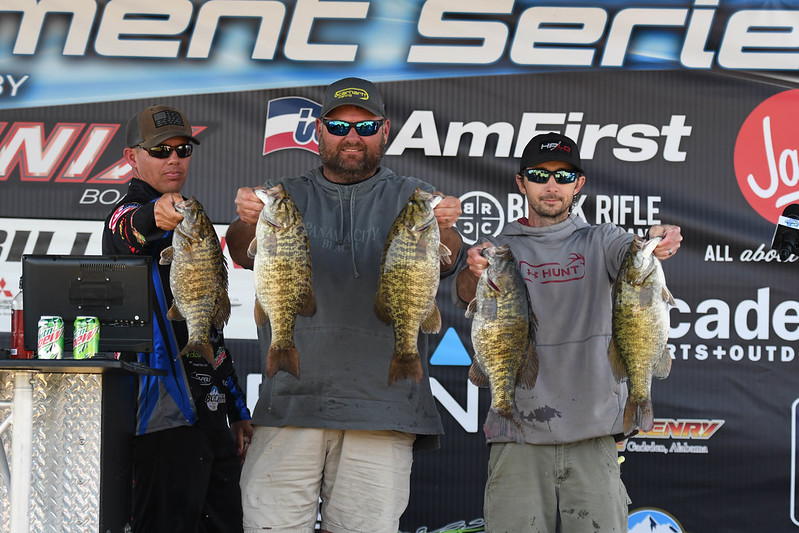 Decatur, AL – The Alabama Bass Trail North Division teams had to wait one more day to get their shot at $10,000 on Wheeler Lake. Fishing was delayed until Sunday due to a strong weather system that moved through the area on Saturday. When the sun rose on Sunday, 225 teams were anxious to see if their practice would pay off.
Many teams found their areas changed a lot with the water rising on Saturday from all the rain. However, on Sunday the water level began falling because both dams were wide open and the current was really strong giving teams one more obstacle to adjust to. In the end, Wheeler Lake showed out in a strong way with 51 teams catching over 15 pounds, and the the top 8 teams all weighing in over 20 pounds. The team of Lance Whitaker and Jeremy Briscoe took home the win with 25.43 pounds of smallmouth.
Lance and Jeremy said practice went really well for them; they spent two days trying to find current seams and places where smallmouth and spots would set up just inside the current waiting to feed. Since there has been so much rain over the last few weeks, they thought the current was going to be in their favor, so they made the run to an area they know well just below the Guntersville Dam. We "knew all the floodgates were on and when the flood gates are on, we always fish this way." For them the key was making the right cast- "it's really important to cast as close as you can to the current seam. Sometimes you cast in the current and let your bait fall with the current, and sometimes you can cast on the slack current side, but the fish really set up in the middle and stay almost in the current. You just have to try to make the right cast." Lance and Jeremy used spinning tackle all day along with two baits: A NetBait 5 inch flex worm in Keylime pie and NetBait T-Mac Straight tail worm in Alabama Craw both rigged on a shaky head with 10 pound fluorocarbon leader and 15 pound braid. They had over 25 fish catches all day and probably lost 20 pounds, but they stayed in the same spot all day. A limit was caught around 8:30, and the fishing was good all day.
The second place team of Blake Hall and Triston Crowder caught 23.38 pounds for $5000. Practice for them was slow, not getting many bites. On tournament day they decided to head west out of Ingalls Harbor to build on their practice. Their plan was to fish shallow water and primarily target pad stems and bank grass in 1 foot of water with a spinner bait and Chatterbait. They caught a limit around 11:00 with a total of 15 keepers all day. Throughout the day they worked through about 30 spots saying, "it was all about covering water, so they were glad to see the rain on Saturday because they felt it kept the water up in the areas they were fishing."
Luke Kyle and Arch Cornett finished in third place. "We started off the morning fishing shallow flipping and caught a limit early, so we decided to change it up and move around to different areas. We changed baits to a Bill Lewis square bill trying to find bigger fish, but we really never got a kicker fish. Later in the day we were able to upgrade by fishing some current seams" fishing mainly in the mid-lake area. Eric grew up "fishing this lake and sometimes that can help you or hurt you. I always feel I have some areas I can go and catch fish. When the wind picked up, it was helpful to have that local knowledge to be able to go and get out of the wind." Their primary baits were a Green Pumpkin Jig, Bill Lewis Square Bill and a Green Pumpkin Zoom Baby Brush hog. Eric said, we "probably caught 70 fish throughout the day, and at one point, we just quit getting the net for 3 pounders because it really wasn't helping us cull up any." They weighed in 21.57 for $4000 plus a Garmin bonus.
Top ten standings are below for a complete list see: https://www.alabamabasstrail.org/tournament-series/wl-results/