FLORENCE, AL – Day two of the 2021 Pickwick Slam provided quite a show at McFarland Park in Florence, AL as anglers weighed in for a shot at winning over $20,000+ in prizes and contingencies. Pickwick Lake shined on this final day of tournament competition. James Willoughby and Chance Schwartz from the University of Montevallo held on to their day one lead to win the 2021 Pickwick Slam with a two-day total of 45.42 pounds. Drury University's Brock Bila and Jack Rankin take second place with 40.15 pounds, and Fisher Overton and Fisher Young from Blue Mountain College round out the top three with 38.99 pounds.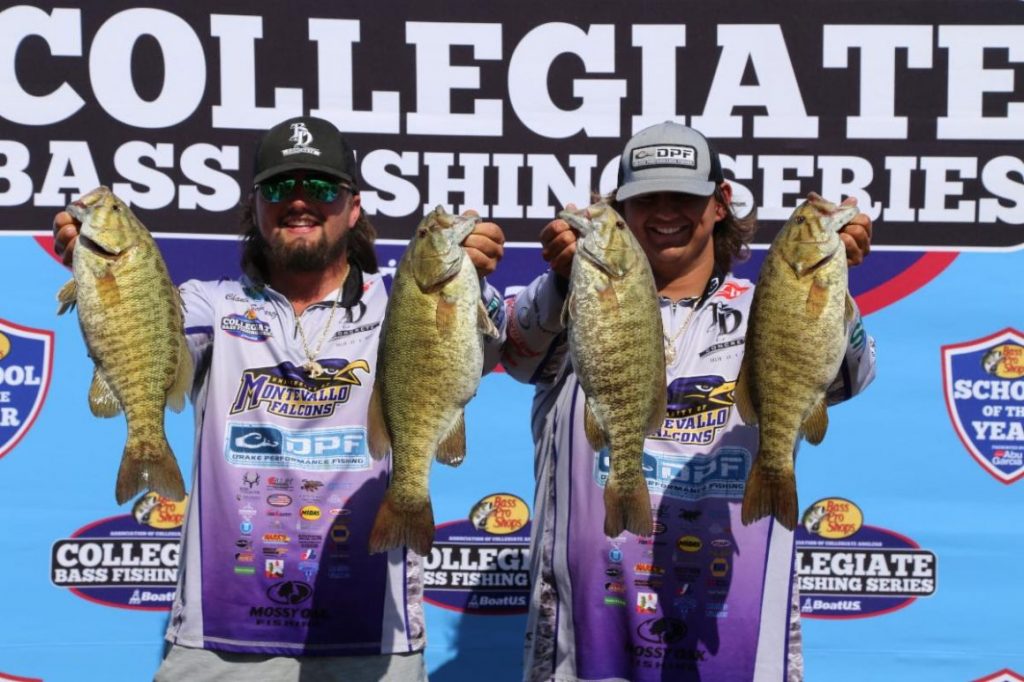 1) James Willoughby & Chance Schwartz, University of Montevallo – 45.42 pounds
2) Brock Bila & Jack Rankin, Drury University – 40.15 pounds
3) Fisher Young & Fisher Overton, Blue Mountain College – 38.99 pounds
4) Camden Lewis & TJ Edwards, Blue Mountain College – 38.83 pounds
5) Griffin Fernandes & Zach Manneback, Adrian College – 37.26 pounds
The Top 5 overall teams at the 2021 Pickwick Slam automatically qualify as that exact two angler pairing to compete in the 2021 BoatUS Collegiate Bass Fishing Championship presented by Bass Pro Shops.
Willoughby and Schwartz from number one ranked University of Montevallo entered the final day of competition in first place after weighing in 24.96 pounds on day one of competition. The pairing was the last team to weigh in on day two, and needed just over 15 pounds to seal the deal on Pickwick Lake. When the scales locked in, Willoughby and Schwartz totaled 20.46 pounds of smallmouth bass. That five bass limit bolstered their tournament winning weight to 45.42 pounds.
For their victory, Willoughby and Schwartz won a $1,000 Bass Pro Shops gift card, two HydroWave H2 systems, two ACA custom BUFFs, a Rapala tackle package, as well as a 13 Fishing prize package. Along with those prizes, the Montevallo anglers also cashed in on the ACA logo contingency and Garmin Tournament Rewards. To go along with those prizes and contingencies, Willoughby and Schwartz also earn 1,000 points towards the Bass Pro Shops School of the Year presented by Abu Garcia. Paired with a 10th place finish by fellow teammates Jordan and Tyler, number one ranked University of Montevallo will earn over 1,500 points towards its season total.
Check collegiatebasschampionship.com later this week for an in-depth breakdown of how the first place team at the Pickwick Slam caught its fish.
Finishing the event in second place were Brock Bila and Jack Rankin from eighth ranked Drury University. The two angler team from Springfield, MO, the home of Bass Pro Shops, finished the event with a two day total of 40.15 pounds. Bila and Rankin were the only other team in the field, besides the overall winners, to amass over 40 pounds of bass this weekend. Bila and Ranking earned a $800 Bass Pro Shops gift card, two Bluewater LED Ultimate Lighting Kits from T-H Marine, two ACA custom BUFFs, Rapala tackle package, and 13 Fishing prize package.
Rounding out the top three were Fisher Overton and Fisher Young from seventh ranked Blue Mountain College. The duo weighed in the biggest bag of day two, 21.98 pounds, to move up in the standings and land a top five overall finish. Overton and Young consider Pickwick Lake their home lake, and this weekend means a lot to both them and their team. The next highest finishing team from Blue Mountain College was Camden and TJ in fourth place. Having two teams in the top five will go a long ways towards Blue Mountain's yearly points total.