By Keith "Catfish" Sutton
I used to think striped bass weren't very good on the dinner table. I'm not sure why I had that mistaken notion in my head, but after a successful fall striper fishing trip on northwest Arkansas' Beaver Lake, fishing guide Brad Wiegmann and his wife Judy prepared a dinner of fried striper fingers that convinced me otherwise.
"I've never really eaten any striped bass," I said as Brad and I cleaned some of the fish we had caught while fishing with my son Josh. "I always heard they weren't very tasty."
"After you eat it the way Judy cooks it, you'll want to eat every one you catch," Brad replied. "If you trim the fillets properly to get rid of all the dark reddish meat, you can prepare them just like you might cook a catfish or crappie, and they'll be flat out delicious, I guarantee."
He was right. After the dark streaks of flesh had been trimmed off with a fillet knife, Brad cut the boneless meat into finger-sized pieces, then Judy dredged them in a well-seasoned mixture of flour and corn meal and deep fried them. I chuckled at the big pile of fish she cooked, thinking there was no way we could eat it all. But when Judy, Brad, Josh and I dug in, it soon disappeared, and our bellies got stuffed.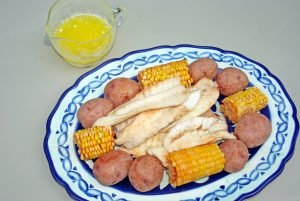 A few years later, my sons and I fished for stripers with guide Jerry Blake on Arkansas' Lake Greeson. In no time at all, we caught limits of these powerful linesides, most of which weighed around 10 pounds.
"Fishing for stripers is really fun," Jerry said as we headed back in with a full cooler of fish. "But the best part of a striper trip with me is getting to eat your catch prepared fresh at the dock. The way I cook it, it tastes just like crabmeat."
Blake started with some Louisiana Crawfish, Crab & Shrimp Boil. The spices were mixed into a large pot of water according to package directions, then the water was brought to a boil. He added some corn on the cob and new red potatoes and cooked them until done. Then the heat was turned off, and small pieces of the well-trimmed fish were added to a basket in the pot. The fish was cooked for 20 minutes until the pieces could be flaked easily with a fork.
"Here you go," Jerry said, handing each of us a small bowl of hot melted butter. Dip your fish in that and you'll have yourself a great meal that tastes even better than real crab."
He certainly knew what he was talking about. That striper was as good as any fish I've ever eaten, and "striper crabmeat" became a favorite in the Sutton household.
If you thought striped bass weren't good to eat, think again. Try the recipes above or the two that follow and you'll find out how scrumptious these fish truly can be.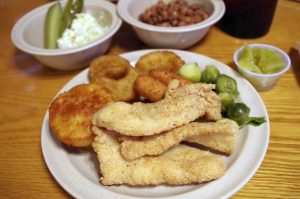 Charcoal-broiled Striper With Lemon-Parsley Butter
6 pieces of boneless striper, about 8 oz. each
2 tablespoons chopped fresh parsley
1/2 cup water
Juice of 2 lemons
1 stick unsalted butter, melted
1/2 teaspoon salt
1/4 teaspoon cayenne pepper
To prepare the lemon-parsley butter, place parsley in a saucepan, add water, and boil 5 minutes. Drain the water from the parsley, and add the lemon juice, butter, salt and cayenne. Heat through.
Grease each side of a long-handled, hinged, wire fish grilling basket. Brush the fish fillets with butter, secure in the basket, and broil over hot coals until each flakes easily with a fork. Continue brushing the fish with the sauce while cooking. Serves 3 to 6.
Fried Striper Dijon
2 pounds striper fillets
Salt, black pepper for seasoning fish
4 tablespoons Dijon mustard
1/2 cup flour
2 teaspoons salt
1 teaspoon black pepper
1/4 cup corn starch
3/4 cup yellow cornmeal
Cooking oil for frying
Place the fish in a large bowl, and season to taste with salt and pepper. Add mustard in with fish, and stir until the striper pieces are well coated. Allow to stand 30 minutes.
Blend all dry ingredients. Heat the cooking oil in a deep fryer to 375 degrees. Dredge the fish in the flour mixture, and fry until fish flakes easily with a fork. Serves 2 to 4.