(Photo above) Left to right in the picture is Kenny Thomas, Carl Smith, Gary Smith, and Mike Hamilton with "Mighty Mick" and some winning hardware.
By Taylor Wilson
Editor's note: The MSFHN continues it series on what to look for in various breeds of hunting dogs.
The breeds of squirrel dogs are many. Perhaps adding some confusion, is the fact that so many also wear the tag of feist or cur. Both are words that can mean mongrel in an English dictionary. But despite the dictionary, for many years proponents of the various breeds have developed canines that are strained for specific skill and technique.
Mike Hamilton, Westmoreland, Tenn., like the dogs he loves, has a great lineage in the sport of hunting, especially when it comes to canines. He said both sides of his family have been involved in hunting with dogs for decades.
Hamilton, Board Member for the Original Mountain Cur Breeders Association, based in Jamestown, Tenn., favors the breed for which the Association is named. Original Mountain Curs have long been labeled a do-anything pioneer dog with strong roots and origins in the Volunteer State.
Hamilton has owned many very decorated and talented squirrel dogs, several of which were equally as skilled at hunting raccoons.
"Oh, there's a lot of breeds of squirrel dogs out there, and if I thought there was one better than the mountain cur, I would be hunting it," he said.
He believes the popularity of squirrel dogs is growing, especially as larger tracts of timber are lost to development. Hunters that once ran coon dogs are down-sizing to squirrel dogs. Others he said, seem to be looking to get kids involved in the outdoors.
As for what to look for when buying one?
Well, like most purchases, Hamilton says one should do their homework. There are a lot of variables, but the primary thing is to know what you want and expect? What are you going to do with the dog? Know this before you begin your search.
"I am particularly cautious about advising people that are getting into it for the first time to buy a puppy," Hamilton said. "If you don't know anything about training or hunting, you'd be better off, and actually save money and frustration, by buying a seasoned dog."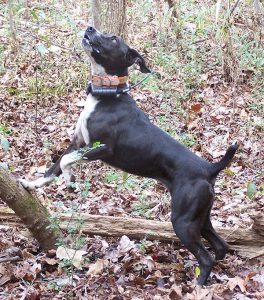 "Social media is filled with pups that are doing some incredible hunting feats at a young age. I am not saying it doesn't happen, but I am saying it's rare. It takes a lot of time and work to make a good a good squirrel dog. For most newcomers, it's simply best to get a 5-6-year-old finished, medium-range dog, and believe it or not the hunters can learn a lot from the dog itself."
In addition to knowing what you want, and how you will hunt the dog, Hamilton echoed doing research. Study multiple sources and ask lots of questions before purchase.
Hamilton has mixed feelings about papers and pedigrees. "You need to check them out, definitely. But also need to know the fastest car in town, might go unrecognized because it never enters a race," he laughed. "There are a lot of great dogs out there that don't have the titles simply because they don't compete."
"Most of making a good choice on a squirrel dog comes down to:
knowing a dog's (and its lineage's) ability;
knowing your ability and time available to spend on training and working with the dog;
and how much access to land to actually hunt the dog do you have?"
To learn more about the Original Mountain Cur Breeders Association, visit www.omcba.com.