By Keith "Catfish" Sutton
There's nothing more comforting than the aroma of warm stew simmering over a fire on a cold day in February. You can use any type of wild game for the main ingredient. Brown the meat, add vegetables and herbs, season to taste and allow to slow cook until the meat is tender. That's really all there is to preparation. But there are some cooking tips you can use to make each stew taste its best.
First, be sure to brown the meat before adding it to the stew pot. You may be tempted just to add the game pieces and start cooking. This removes one preparation step and reduces the number of pans to clean. However, the chemical process that takes place when meat is browned in a bit of oil enriches the flavor of the dish. Browning also produces "fond," those delicious, crusty bits of browned meat in the bottom of the pan. Deglaze the pan by adding a little water, wine or broth, and you have even more good stuff to add to your stew.
For stovetop and campfire cooking, I use a cast-iron Dutch oven, which distributes heat evenly and allows the stew to simmer properly. This is the quickest way to make a stew, requiring only an hour or so of cooking time if you use already-tender cuts of meat like tenderloin or young game animals. Stir the stew often to prevent sticking, and be sure it always simmers, never boils. Higher heat from boiling toughens meat instead of tenderizing it.
Do not cover the cooking vessel tightly. If you do, the liquid will quickly reach the boiling point and overcook the meat. If you use a lid to prevent spills, leave a small gap so steam can escape. The liquid then will simmer properly and produce more tender meat.
The exception to the tight-lid rule is when slow-cooking in a Crock-Pot. This is my favorite method for preparing stew, as the food can cook all day without attention and be ready to serve when a hungry crew gets home. Brown the meat, add it to the Crock-Pot with the other ingredients, stir, cover and cook on medium heat for 4-5 hours or low heat for 7-8 hours.
Now that you know all that, it's time to get cooking. Here are some tried-and-true recipes you can use to prepare a delicious wild-game stew your family and friends are sure to enjoy.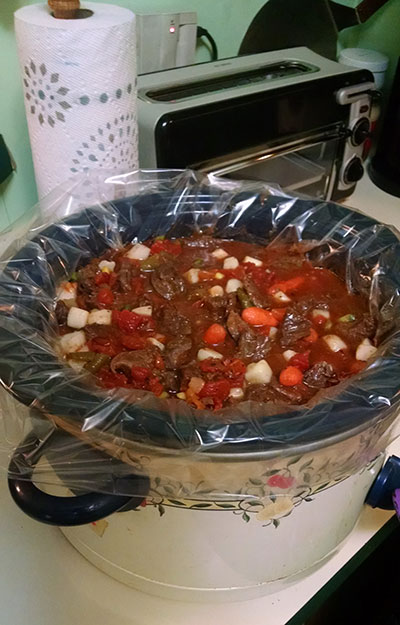 Crockpot Venison Stew
1-1/2 pounds potatoes, peeled and cubed
6 medium carrots, cut into 1-inch lengths
1 medium onion, coarsely chopped
3 celery ribs, coarsely chopped
3 tablespoons all-purpose flour
1-1/2 pounds venison stew meat, cut into 1-inch cubes
3 tablespoons canola oil
1 can (14-1/2 oz.) diced tomatoes, undrained
1 can (14-1/2 oz.) beef broth
1 teaspoon ground mustard
1/2 teaspoon salt
1/2 teaspoon pepper
1/2 teaspoon dried thyme
Layer the potatoes, carrots, onion and celery in a 5-quart Crockpot.
Place the flour in a large shallow dish. Add the stew meat and turn to coat evenly. Heat the canola oil in a large skillet, brown the dredged meat and place the venison on top of the vegetables.
In a large bowl, combine the tomatoes, beef broth, mustard, salt, pepper and dried thyme. Pour over the deer meat in the Crockpot. Cover and cook on low for 7 to 8 hours or until the meat and vegetables are tender. Makes 8 to 10 servings.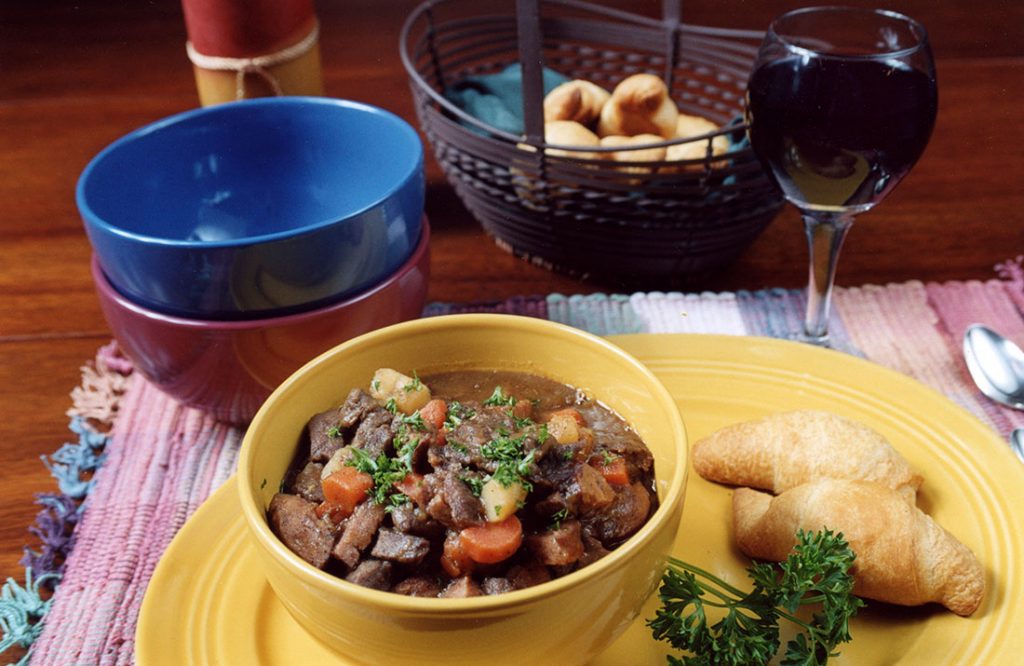 Stewed Wild Goose
2 boneless goose breast fillets
3 tablespoons olive oil
1/2 cup diced onion
1/2 cup carrot slices
1 cup water
2 chicken bouillon cubes
1/4 cup soy sauce
1/2 teaspoon thyme
6 medium potatoes, diced
Fresh parsley
Cut the breast meat into bite-sized pieces. Brown the pieces in the olive oil over medium heat. Place in a slow cooker with the next six ingredients and cook on high for 2 hours. Add potatoes, and cook another 1-1/2 hours. Top each bowl with a little fresh parsley for garnish before serving. Serves 3 to 6.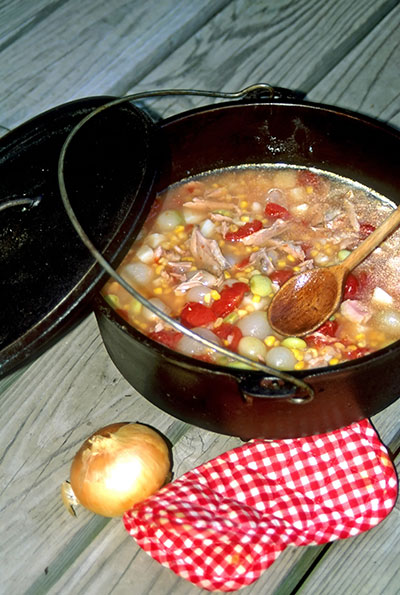 Brunswick Stew
4 squirrels, cut in serving pieces
3 quarts water
1/4 cup diced bacon
2 teaspoons fresh-ground black pepper
1/4 teaspoon cayenne pepper
1 tablespoon salt
1 cup pearl onions
2 cups peeled, whole tomatoes
2 cups diced potatoes
1 cup lima beans
2 cups whole-kernel corn
Place the squirrel and water in a large Dutch oven. Bring to a boil, reduce heat and simmer 2 hours or until the meat is tender, skimming the surface occasionally. Remove the meat from the pot, allow to cool and separate the meat from the bones. Discard the bones and transfer the squirrel meat back to the liquid in the pot.
Add all the remaining ingredients except the corn. Stir well. Cover and simmer for 1 hour. Add the corn and heat an additional 10 minutes. Yield: 10-12 servings.