By Joe Sills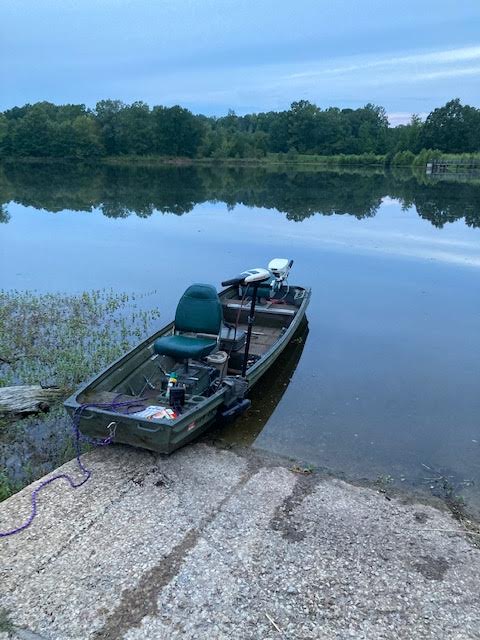 Many of us grew up fishing small waters. Farm ponds, old sloughs, small creeks, and rivers were " heaven on earth" to us. To me, they still are. When on these small waters, one is in "Mother Nature's Bosom". You are probably in the midst of a  placid, tree lined place that might be so secluded that the only sounds you hear are the very best of Nature's music, songbirds! Sure, there are frogs, waterfowl, even the barking of a squirrel, or the lonesome wail of a coyote; add to the symphony of natural sounds that make for a trip back to a simpler time.
Fishing in my 1960 Buddy Boat has always warmed my soul with precious memories of great days with friends who have passed on, with thoughts of teaching our four sons the basics of bass fishing, and with the secure feeling of being  intimately involved with Nature. My old fishing buddy, Larry Rains, once said " If we had a notch on the side of this old boat for every bass that crossed the gunnels, there would be nothing left but the seats"! R.I.P. Old Friend. That old boat has been refitted and JB Welded several times. It's now sporting its fourth transom board and a new coating of Flex Seal. It has floated the backwaters of Kentucky Lake and the Mississippi River. But, it's really at home in the sloughs of the Hatchie and Spring Creek where solitude and rare signs of Man dominate.
Like many, I also have had my share of big bass boats. Its quite thrilling to be literally flying out across a big reservoir in hopes of a big catch or a winning sack.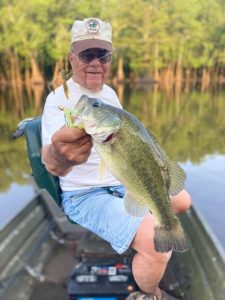 Even in my days of living fifteen miles from Kentucky Lake in Murray, I cherished the thoughts of sitting in my old boat while casting in the shallow pad fields of remote sloughs and Reelfoot. Our depth finder was our rod and our temperature gauge was our hand. Our rods were pistol grip, five and a half, custom wrapped by me, and our lures were the latest and greatest by Strike King, Hog Rustler, and Billy Phillips. Our Ambasadeur reels were spooled with 20-­‐pound Stren, needed to battle in the weedy, pad choked, cypress swamps. Back then, five-­‐pound bass were expected to be caught, regularly. It wasn't often that a 10 bass limit weighing at least 30-­‐40 pounds didn't meet that mark. And that's after culling several more.
In today's world, a resurgence of small craft is happening. Plastic boats resembling diminutive pontoons, kayaks, and even paddle boats can be seen on what was once our secret holes. Fortunately, most operators are conservation minded and practice catch and release. Small craft of all types are more affordable, more easily transported, and able to launch where ramps do not exist.
Caution – when the first one and two man plastic boats came out in the late seventies, I just had to have one. I purchased a one man Bass Hunter. It was great little boat but, I found the "no shoulders" in the Hatchie Refuge lakes were extremely curious and didn't hesitate to climb aboard the low-­‐sided craft.
Yep, sold it and went back to my old Buddy Boat.
In these days of "Plandemic", insecure financial future, political upheaval, and civic unrest, it is comforting to realize that places to rejuvenate and find tranquility are still here and accessible in our small boats. MSHFN.