By Joe Sills
We try to do something special for our grandkids right before school starts. This year, as we did two years ago, we booked a half-day at Lindsey's Resort on the little Red River near Heber Springs, Arkansas for two of our eleven grand kids. This time it was for Evan, 13, and Sean Morey, 11. For these two, it was through Missouri for a stop at Grizzly Jig, the world's largest Crappie Store, in Caruthersville, and into Arkansas, which were new states for them to travel.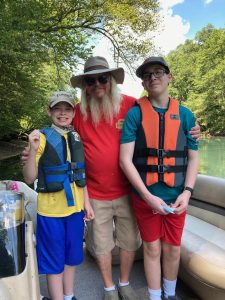 When we reached our final destination, the River was rolling. The ramp to the dock was riding level, which I had never seen before. Now, I've been there several times for relaxation or writer's conferences and have never seen it this high. However, The next morning, the bottom had dropped out to almost nothing. The generators were to be turned on at 3 p.m. As we boarded a pontoon with veteran guide Jay Gudermuth, the guys marveled at the clarity and stillness of the very shallow, grassy waters. As we slowly motored upstream to a series of deep holes, we could see trout lazily swimming beside the boat.
As we traveled slowly, the natural beauty of this scenic area cast a spell over all. The vertical cliffs and riverside forests, punctuated by fog banks rising off the 50 – degree waters, made for a cool, surreal experience. The silence of our group accented the degree of awe. On our first stop, Jay very patiently rigged up the boys' outfits with 3/16 – ounce sinkers, swivels, Power Bait and wax worms. As we waited for the telltale rod bounce indicting a strike, I recalled precious moments past with other guides and fishing partners in this secluded place, most of which had passed on to heavenly waters. I fondly remembered old guide Jack Jones, a former Memphis State football player, Bill Bradford, a lifelong fishing partner from the Memphis State Band years, and John Gallaspy, our MSHFN Editor for a few years. David Mitchell, an old Rock and Roller who still is active on the River, and Billy Lindsey, son of the original owner, now recovering from serious health complications.
These gracious men taught not only varied techniques to trout fish, but added to the meaning of a more satisfying life of a quiet, measured existence. Compared to the high energy of bass fishing, one must " put on the brakes" to catch trout. The quaint log cabins of Lindsey's reflect great thoughtfulness in keeping with the beauty of the riverside grounds. This place invites one to "social distance" and breath deeply the wonders of Mother Nature.
Even though the fishing was untraditionally slow due to the morning's lack of current, high bluebird skies, extremely shallow water, and elusive fish, we all felt it had been a great morning of exposure for two youngsters emerging from the cocoon of youth into a new world of manhood, a world of electronics, computers, laptops, and virtuals. May we all hold dear the freedoms and reassurances granted to us by our forefathers. MSHFN.