By Joe Sills
Where would you rather be in this CV19 world? Quarantined at home watching TV, playing video games, baby sitting teenagers? Or enjoying hours of fishing and relaxing on Pickwick's quiet waters? Quiet, you say? Yes, after Labor Day, Pickwick usually returns to its older ways, well, it used to. With all this "social distancing," who knows?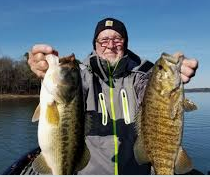 Let's assume we are all more accustomed to dealing with the "Pandemic", whether it is real or concocted, and hardly anything will cancel out our desire to be in the "Great Outdoors"! The natural beauty of this vast expanse of water as it hugs the rocky shoreline, with all its colorful fall foliage is hard to beat. And, fall fishing is also hard to top. The cooler nights are driving the shad schools to the backs of coves and game fish are sure to follow. Both largemouth and smallmouth bass will begin their feeding binges as they fatten up for winter. The clear, shallow water will necessitate longer casts and less obtrusive lures. Boat control will be at a premium in order to avoid spooking wary bass. Shad imitating lure such as vibrators, buzz baits, and small square bills will augment the boot tail swimmers that have proven to be so effective.
Crappie fishermen will be pulling small crank baits and minnow tipped jigs even shallower across sloping points and underwater humps. Some may even be still bumping the channel edges with double hooked minnow rigs. Still others may be dipping jigs or minnows around the ever-popular boathouses. All will be looking forward to those tasty slabs or fillets at the end of the day.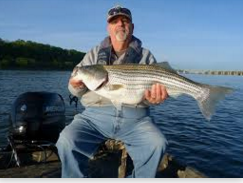 Catfishermen will be getting in their last chances at snagging a real river monster below the Dam before the cold winter winds arrive. Cut bait and gobs of night crawlers will be the baits of choice. Striper fishermen will be crowding the wing walls and turbine outlets for a chance to hook those hard fighting "Silver Streaks" that will be biting almost anything put in front of their faces. Spoons, spinners, Sassy Shads, top waters, jerk baits, and even live shad minnows can be struck with equal ferocity and be the source of drag pulling contests between man and beast!
It's a little early for those mouth-watering sauger fillets, but one still might latch on to an early arrival. Best wait a month or two for serious sauger fishing. Even the white bass run is still something to look forward to in the coming months. The kiddos will be happy just to pull in a few bluegill from around the boat docks or lakeside bushes.
Even if you or your family are not into fishing, a cool pontoon ride around the lake can be a source of pure exhilaration, not to mention the opportunity to sample the traditional food offerings at the local restaurants. Why not give Pickwick in the fall for a real escape that is only a few hours away?