By Joe Sills
Sam Lashlee is a modern day Bassman, Unlike most of our Mid-South Legends, he actually was groomed in a boat with only a few pond and creek experiences. His dad, John, who was a local DJ in Camden, Tennessee took him fishing on Kentucky Lake at every opportunity. Early on, the family moved to Nashville where Dad, John was a sportscaster on TV and later had his own outdoor show. Sam was exposed to a tremendous amount of hunting and fishing experiences through his Dad's work. He attended Nashville Overton High School but decided not participate in sports because it cut into his fishing time.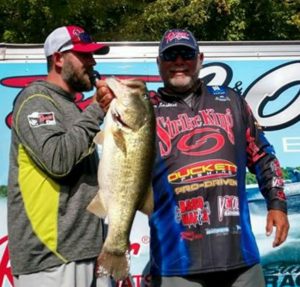 Sam attended Middle Tennessee University on a wresting scholarship. He then moved back to Camden with the intent of fishing for a living. His specialty was shallow fishing and became a fearsome force all around the Tennessee River system. Most of his winnings came by pitching and flipping and thus, won all four of the last Harville Classics on Kentucky Lake. Sam would fish any tournament he could from March to October. In the off-season, he would hunt deer and waterfowl. In 2006 he won the Stren/Toyota Invitational and the FLW-Old Hickory Tournament netting him $200,000 for those two events.
He was always at the top of the leader board on the southern part of Kentucky Lake until he went up north and fished in the Kentucky waters near Paducah. The Straeders were the "kings" up there. He learned from them that after the spawn, bass went out deep to the ledges. This spurred him on to learn all he could about the deeper side of bassin'. This coincided with the more "educated" use of advanced electronics, of which Sam became such an expert, he began to school other anglers and even conducted classes on their use. He was so efficient, he qualified for the 2006 Bassmaster Classic held on Lay Lake near Birmingham, Alabama in February of 2007.
Sam became renowned for his abilities in catching 10-pound bass on Kentucky Lake. Years before, bass that size were very rare but Sam's abilities led him to catch multiple lunkers over 10, six years in a row.
He has seen the Asian carp become so prolific, he fears they are on the way to contaminating the whole Tennessee and Cumberland River systems. But, he believes the commercial fishermen have had a positive impact on their reduction. In most cases, they have run the bass off the ledges in Kentucky Lake, so he now catches the majority of the big ones in three feet, or less of water. How? He targets offshore shell beds with large top waters as the fall drawdown progresses. His favorite is the Strike King "Sexy Dawg" which he helped develop.
Sam is still fishing when he is in the area, but due to the decline of the guiding opportunities on Kentucky Lake created by the Asian carp, he has a marketing position in Knoxville. He is a Member of the Tennessee River Tourism Board and was instrumental in raising the funds so TWRA could purchase 300,000 Florida bass fingerlings that were stocked in the Tennessee River in June. This is a three-year program funded by the Boards of Benton and Henry counties in association with the Tennessee Wildlife Resources Agency. We salute Sam Lashlee, our Mid-South Legend for August.