By Joe Sills
As we present these Mid-South Legends, we occasionally come across someone we have known long before they attained Legendary status. Such is the case with this month's Legend, Louie Mansfield, whose Grizzly Jig retail store in Caruthersville, Missouri has been acclaimed by many as The Nation's Biggest Crappie Store.
And if it's not now, it certainly will be soon, when the new Grizzly Jig Superstore opens later this year. In development now, the gigantic 400,000 square-foot showroom, seminar venue, and warehouse will be the crappie fisherman's Heaven on Earth.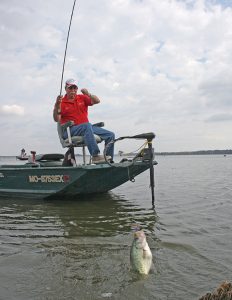 I met Louie and his sons Wade and Lance around 30 years ago while traveling the area. At the time, I was involved in fund-raising for school groups. His small downtown store was brimming with fishing products, trolling motors and boat accessories such as seats, pedestals, fish finders and lures. After a brief introduction, Louie's easy-going manner was a pleasant disguise for a professional fisherman, lure maker and intense businessman. We called it, at the time, the fisherman's paradise.
Soon after, I became associated with the Mid-South Hunting and Fishing News, my relationship with the Mansfield family progressed from a business acquaintance to a valued friendship.
Louie's story rings familiar to those involved in fishing. His began as a youngster, trailing along after his dad, with a fishing pole and a can of worms. After high school, he began a career in the local barge-building industry, all the while serving his country in the Army National Guard and, of course, fishing. In 1991 he attended a class on fly-tying which led him into tying crappie jigs.
His quality products were quickly being recognized over commercial offerings, and the demand became so overwhelming he contracted them to be made by a local public service organization. In 1993, he opened a small store near the present location and went full-time. The one stipulation that his wife Lancey placed on him was that the venture would not dig into the family budget.
In 2003 he began his annual January Crappie Show, which has drawn thousands of crappie anglers from all over the country.
Louie's successful tournament experience, knowledge of the species' habits and friendship with the world's top crappie anglers have been led him to become recognized as THE Go-To Crappie Expert in terms of tackle and techniques. His shipping department sends all types of related products over the entire country and overseas. His annual catalog is eagerly awaited by those that fish for many species.
Louie's success is another example of what hard work, dedication, and determination can accomplish in the Land of the Free. We salute our January Mid-South Legend Louie Mansfield.