By Joe Sills
Many of us, me included, grew up on a small, country farm in the rural South. Our first "Legend" for 2021, Bill Montague, did also. As soon as he got home from school, he and his brother and sisters were involved in the everyday work of helping out with chores of feeding and milking cows, hauling hay, harvesting crops, and finishing the week by attending Church. Family farm work was the priority rather than sports or entertainment. Back then, Billy sold milk at seventy cents a gallon! When the crops were "laid by", was the time to enjoy the advantages of country living. His family never went on vacation. Once they loaded up the family car, drove to Memphis, crossed the bridge, turned around, and his Dad said, "Now you can say, You've been to Arkansas"!
Billy's Dad was an avid quail hunter and very good at it. So good that he would have several birds down before young Billy good even shoot. (Just like my Dad). Now, rabbit hunting was a little different. Working the dogs made this activity exciting even if only one or two bunnies were harvested. Billy started early, around eight or ten, being enthralled with this particular aspect of hunting. Unfortunately, his Dad was killed in a hunting accident in 1974.
In 1997, Billy began to conduct guided rabbit hunts with only a few dogs. After encouragement by some friends, he increased his pack to 12-15 dogs. The theory was, like in Church when a few folks sing, its ok, but when many are singing its much, much better. He gives his wife credit for helping with his guide service by keeping up with bookings, taking pictures, and providing the food for the hunt. Billy spent five years at the Firestone Plant when it closed, he returned to his family farm with beans and cotton being their primary crops. In addition to his seasonal guiding, he and one of his sons run their 1,400 – acre farm His other son has made a productive life by traveling the world as a motivational speaker and author.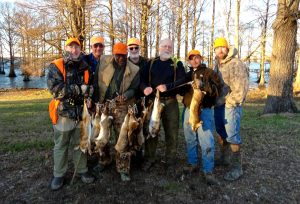 Billy gives well known outdoors writer and radio host, Larry Rea, for helping along his present guiding occupation. His business started with only a few, 29 hunters, to over 200, last year. His reputation has put him in the company of hunters from teenagers from the Middleton Boy's Ranch to members of the Budweiser Family, from locals to hunters from as far away as Virginia. Many book their hunts a year in advance. He and his pack of beagles hunt a number of private lands, leased properties, and his own farm. Billy never shoots, just handles the dogs.
Conservation of the resource is always a priority as, in these days, it takes at least a year to replenish a good rabbit habitat. One of his secrets of success is being able to walk miles and miles behind his dogs. He credits The Good Feet Store for furnishing the insoles of his boots for enabling him to being able to keep up with the pack. We salute good-natured, always positive attitude, and humble Billy Montague, as our January 2021 Mid South Legend.