By Mark Beason
"Water, water, everywhere, and all the boards did shrink; water, water, everywhere, nor any drop to drink."
The classic line from Samuel Taylor Coleridge's The Rime of the Ancient Mariner was talking about the sea, but it currently fits the plight of what's going on in the Mississippi Delta. The fertile lands of Mississippi's Delta region snuggle up to the Mississippi River on the western edge of the state. It's known for being flat, fertile, and full of wildlife.
Scribes such as Nash Buckingham have written about it and Teddy Roosevelt's folklore grew in it. But currently the Delta is under siege from the very thing that's helped to shape it – water.
The south Delta has always been an area that floods. Some type of flooding there is almost as certain as death and taxes. The last couple years have produced unprecedented amount of flooding and while wildlife biologists know it's going to have some type of long-term impact, nobody knows exactly what that will looking like.
"What's going to happen in the Delta is a popular question and there's not a good concrete answer," said Mississippi Department of Wildlife, Fisheries, and Parks Biologist John Gruchy. "What we are seeing now isn't something we have any type of history or data to look back on as a reference."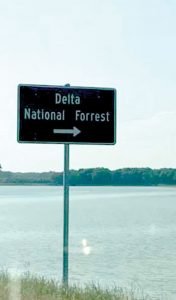 Not all flooding has a negative impact on wildlife and land management. It can have a similar impact as burning, and spring flooding in the Delta region is one of the reasons the ground is fertile.
Again, the impact of long-term flooding isn't known. But one area of real concern is what's going on in the woodlands and what will things look like when the water is gone. One of the hallmarks of the Delta is beautiful blocks of hardwood time filled with oaks, pecans, and an assortment of hardwoods.
"The biggest impact on all this is how well the timber pulls through," Grouch said. "If we end up with substantial timber loss then you are looking at a very deep and long-lasting impact."
The Delta is some to some of the finest public hunting opportunity with more than 100,000 acres of land available. Many sportsmen call this place home and for good reason. You can hunt and fish for just about everything, and in normal years, game is plentiful.
But this isn't a normal year and small game hunter Jake Reynolds has concerns about the future.
"I just don't things will be the same in those woods for a while," Reynolds said. "I'm 57 years old and I've spent a good part of my life in the Delta woods and I just don't see how this doesn't have a major impact on wildlife. I was hoping to teach my new grandson how to hunt and enjoy the Delta but now I'm just hoping we have something left."
Not all the news is bad regarding the flooding. Waterfowl hunters enjoyed a banner year during the 2019-2020 season and if the water still holds that trend could continue. Since ducks don't nest and reproduce in the Delta, their numbers aren't impacted and many birds that would normally be pushed further south, remained longer in the Delta.
For biologists and sportsmen alike, there are many questions left unanswered at this point. It really is a case of only time will tell.