Editor's note: MSHFN will feature several articles in ensuing issues about how to select a sporting dog. The first breeds we will feature are those used for hunting raccoons.
Unless, you are Everett and crew in Oh Brother Where Art Thou or Luke in well…Cool Hand Luke, you must love the sounds of hounds.
The sound and chase are what has kept generations of 'coon hunters in the Mid-South wandering through the woods at night in a near primal tradition.
Dogs are the integral part of it all. And if you ever want to experience such hunting at it's best, you need to start there with your very best choice.
So how do you select a winner when it comes to 'coon dogs?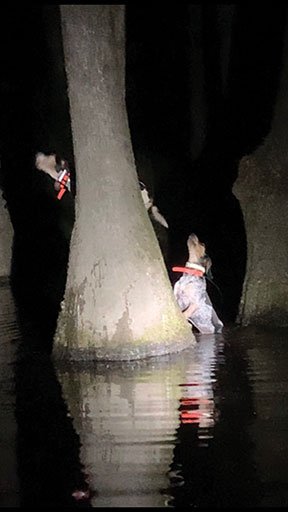 Mississippi native Mark Beason notes there is no shortage of breeds for those wanted a tree dog: Walker, black and tan, English, etc. And, if you are serious about it, one needs to hunt with a variety to match their hunting style, desires with what each breed offers.
"You have to look for a breed that's going to best produce the kind of hunting you want," Beason said. "Then compare what you consider the best with the worst. Do homework. It is an investment."
Indeed, it is. Check the prices on 'coon dogs these days. They are up there, especially in the competition realm.
People breed for specific traits, and for both competition and pleasure hunting. There's lots of variables and you need to have a set list on what you want and need (specifics) if you are going to make this kind of purchase, Beason said.
It's also wise to go hunt with a veteran of the sport for a while, learn and know the famed ropes. You will soon find as in most sports involving a dog, it also translates to time and money.
Pedigrees are a big deal, and "the papers" on 'coon dogs can be as thick as the novel War and Peace. Beason said ring-tail hunters' efforts to establish a paper trail on hunting dogs seems to be much more established than even the bird dog, squirrel dog and retriever breeds.
"That said, papers have never treed a 'coon," he laughed. "What good papers do, those that show a successful lineage…like 'champion'…is mainly increase the chances you will have a nice dog.
"Two professional athletes may have children, but that certainly doesn't give them an automatic spot in the Hall of Fame," Beason said.
"Nothing is going to beat going through a pair of boots following a dog. What I am telling you is that time hunted is what makes most dogs, and that goes for all hunting dogs."
Like everything else, science and technology have certainly changed this sport. From the ability to always know whereabouts and control you hounds (tracking and e-collars) to genetics. Dogs long dead are still spawning new litters of pups via frozen semen.
"The Internet has also helped improve lineages," Beason said. "You go online, and you can research and find various gene pools near and far…very far. Where dog lines used to linger in the same region, now someone in Mississippi may be wheeling and dealing for pups in Michigan. The world has gotten smaller."
Again, Beason points out the best way to increase your odds when it comes to obtaining a great 'coon dog pup or lineage is to do homework, and then once acquired try to keep the hound hunting as much as possible.
"'Coon hunting an incredible sport for all, and it is filled with great people. Those that take part, get so involved (or addicted), they don't do much else. It is unique. And it's a full-time pursuit with training and hunting seasons, and like fishing you can always catch and release. A treed 'coon is the end of a lot of fun. You have the option of not shooting it, getting the dogs and going elsewhere. Sometimes, I do that, 'OK, we got him, let's leave that one, so we (or maybe someone else) can run it again another night.'"