West Tennessee Catfish Anglers #3 Tournament Results – April 11, 2020 at Pickwick Dam. 5 boats participated.
1st Place Danny Hartsfield, Todd Parmenter, Talton Crowder. 88.97 lbs
2nd Place Steve Hearn, Shanon Crowder 22.96 lbs
3rd Place Donny Gray Sr &Jr 10.26 lbs
Bank of Ripley Big Cat: Danny,Todd,Talton 48.67lbs
Weather: 41 and dense fog at blastoff. Clear sunny skies and 69 with a mild wind in the afternoon
Water: 366 on the rise. 62-65 degrees. Light stained. 78,000 discharge
The bite for most of the small field today was sluggish to non existent. But our victors found a stretch of the river that some quality fish were willing to bite using the bumping technique. Skipjack was the bait of choice. My partner and I bumped part of the day but most of our fish came from tightlining, which was hard to master due to the strong currents ( thank God for spotlock). But at the end of the day, it was real nice to get out there and forget about all the hardships and sickness this world is experiencing, not to mention making a few new friends. See y'all next month at Tunica!!!!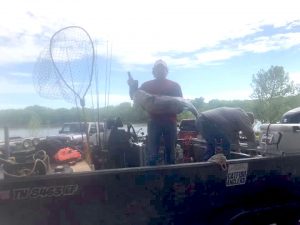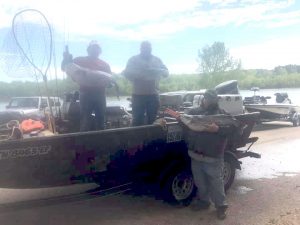 _____________________________________________________________________________
West Tennessee Puddle Jumpers #3 Tournament Results April 19, 2020 Carroll County 1,000 Acre Lake. 41 Boats Participated
1st James Spence/ Robert Gourley 17.03 lbs BigBass 8.06 lbs
2nd Cam Morey/ Sean McAnally 15.61 lbs
3rd Dale Aeschbacher/ Sam Smith 15.57 lbs 2nd BigBass 7.92lbs
4th Matthew Hart/ Ben Abernathy 14.64 lbs
5th Monty McWilliams/Jake Lawrence 11.82 lbs
6th Steve Hearn/Jeremy Cates 11.12 lbs
Weather: Cloudy with periods of light rain. 47/55. Wind light ESE
Water: Clear and low 60's.
The Puddle Jumpers showed out today being Mother Nature blessed us with the crappy weather we have all become accustomed to over the years. The weigh in was remarkable seeing lots of big bass hit the scales. Big bass were plentiful today with numerous 4 and 5 pounders, a few in the 6 range, 3 or 4 7 +pounders, and one a little over 8. It's good to finally see this lake mature some to produce quality healthy bass. Even the " unders" are getting a little meat on their bones. Most of the fish we caught today were hanging around creek channels with shallow water nearby. Carolina rigged plastics were the main course but we did catch a few on crankbaits. Anyway, thanks to all who participated, making it yet another smooth social distancing event, and Congrats to the victors above. See y'all next month at New Johnsonville!!!!