BIRMINGHAM, Ala. — Grass-roots anglers from around the country will take to the waters of Pickwick Lake to compete for one of three berths into the 2023 Academy Sports + Outdoors Bassmaster Classic presented by Huk during the 2022 TNT Fireworks B.A.S.S. Nation Championship Nov. 9-11 in Florence, Ala.
"We are looking forward to having the B.A.S.S. National Championship back in the Shoals area," said Tyler Dolan, manager, Group + Sport Sales for Florence-Lauderdale Convention & Visitors Bureau. "This tournament is a great event for our local economy, and we know that this year will be no different. It's always great to see the amount of support that the anglers receive from their friends, family and also local spectators."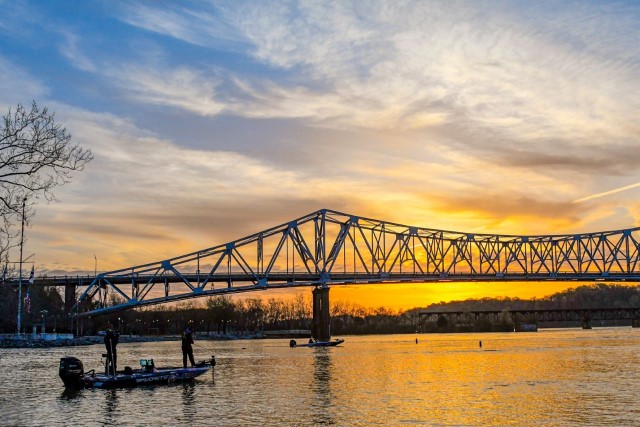 The B.A.S.S. Nation Championship was last held on Pickwick Lake in 2020, when Wisconsin angler Pat Schlapper claimed the coveted Bryan V. Kerchal Memorial Trophy, dominating the field and winning by a margin of more than 7 pounds. That same year, Schlapper finished third in the Bassmaster Eastern Opens Angler of the Year points, allowing him to double-qualify for the Bassmaster Elite Series.
In the most recent Bassmaster Elite Series event on Chickamauga Lake, Schlapper took Phoenix Boats Big Bass honors while 2021 B.A.S.S. Nation Champion Matty Wong claimed the VMC Monster Bag prize for weighing in the tournament's heaviest bag.
"B.A.S.S. has had such great experiences in Florence that we're extremely excited to return," said Jon Stewart, B.A.S.S. Nation director. "As in years past, the competition should be incredible.
"It is fun and inspirational to see the talented anglers coming out of the B.A.S.S. Nation and to watch as Nation Champions go on to success at the Elite level, whether it's Brandon Palaniuk's five Elite Series wins or guys like Caleb Sumrall, who had a breakout season last year with two Top 10s."
Anglers from across the country will qualify via regional championship tournaments held on Arizona's Lake Havasu, Alabama's Lewis Smith Lake, Oklahoma's Grand Lake, New York's St. Lawrence River and the Upper Mississippi River in Iowa. The Paralyzed Veterans of American Tour will also send its Angler of the Year winner to compete.
The Top 3 anglers from the overall championship standings will not only earn a berth to the 2023 Bassmaster Classic, but the B.A.S.S. Nation champion will earn the title of "Nation's Best," which includes an Elite Series berth and the use of a fully-rigged Nation's Best tournament boat for a year. The second- and third-place finishers and nonboater Champion will each earn paid entry fees for all divisions of the St. Croix Bassmaster Opens Series presented by Mossy Oak Fishing.
The championship tournament is being hosted by Florence-Lauderdale Tourism.
For more information and a complete schedule, visit Bassmaster.com.
2022 B.A.S.S. Nation Title Sponsor: TNT Fireworks
2022 B.A.S.S. Nation Platinum Sponsor: Toyota
2022 B.A.S.S. Nation Premier Sponsors: Bass Pro Shops, Berkley, Humminbird, Mercury, Minn Kota, Nitro Boats, Power-Pole, Progressive Insurance, Ranger Boats, Rapala, Skeeter Boats, Yamaha
2022 B.A.S.S. Nation Supporting Sponsors: AFTCO, Daiwa, Garmin, Huk Performance Fishing, Marathon, Strike King, Triton Boats, VMC